Home
The Avatar Lending Program, or ALP, is The Daily Neopets' signature lending service to help our members get new avatars! We currently lend almost all the item avatars, and are saving for a Bony Grarrl Club to add to our items-for-lending. On the pet front, we run chain lends for every pet, petpet, and petpetpet avatar :)
Get ahead and read over our policies, then request the item you wish!
ATTENTION — The ALP team would like to remind you to ensure we can contact you when you apply for a lend. If your inbox is full, your neomail is sent to Neofriends only, you're silenced, or you are under 13, please change these settings or provide alternate contact information. If we are unable to contact you, your request will get deleted.
Suspended Pet Chains
Hi folks!
We regret to inform you that we have 4 pet chains that will not be running in October. Due to a couple of reasons. We apologize in advance for the inconvenience.
Halloween Ruki ~ This chain is suspended until further notice due to the pet being on a frozen account. I will be getting a secondary Halloween Ruki after Halloween when the prices for the brush stabilize.
Draik - Hatched & Harris - Hi & Wocky - Snow Day ~ Account holder is having some computer issues and temporarily unavailable.
Island Quiggle & Gruslen ~ Account holder is having some computer issues and temporarily unavailable.
Blumaroo - Fire ~ Account holder is having some computer issues and temporarily unavailable.
Any requests received for these pets will be held until we can do the transfers, with the exception of the Ruki I would appreciate it if you held off requesting this one so our request section doesn't get clogged up.
Thank you for your understanding and patience!
Dawn
ALP Pet Team
» posted on Thursday, September 22nd 2016 @ 10:16 pm EST by Mouseykins
Comments: 0
September Pet Chains Delayed!
Hi Everyone!
This is a few days over due and I apologize for it.
Our pet chains for this month will indeed be running, though a few days later then normal. Life has gotten extremely busy for our staff running the ALP Pet Chains. Now that my oldest is in school 2 days a week I will have some extra time and will get to the lends on Tuesday. If you've sent in tickets and haven't received a response, expect one to be sent sometime on Tuesday. I will be going through all tickets in our system to make sure no one gets missed, so if you still wish to join a chain this month you have until Monday night to get your requests in.
Additionally chains will be running regardless of how many people are in the chain!
We apologize for the inconvenience and appreciate your understanding in this matter. If you have any questions, comments or concerns please direct them to myself through a PM.
Thank You!
Dawn
ALP Pet Lending Team
UPDATE: Neomails have now gone out, but I'll still be taking requests for September as long as they're submitted tonight before midnight NST.
UPDATE: Chains are now being scheduled so please reply to your Neomails as soon as you can.
» posted on Sunday, September 11th 2016 @ 2:07 am EST by Mouseykins
Comments: 0
Ruki - Mummified Chain Unavailable!
Unfortunately the owner of our Ruki has had his account frozen for unknown reasons. A ticket has been sent to TNT to get this sorted out. In the meantime because our Ruki is on this frozen account it will not be available for lends until further notice. We're hoping TNT resolves the ticket swiftly, but this may not be the case.
I'd like to ask that if you need this avatar and haven't requested it yet to please wait until we've reopened lends so our requests don't get cluttered.
At this time we are not looking for a replacement pet, and if it comes to that I'll make a separate post.
We appreciate your patience and understanding.
Dawn
ALP Pet Lends
» posted on Saturday, July 23rd 2016 @ 7:39 pm EST by Mouseykins
Comments: 0
Houston, we have a problem...
As one of the primary lenders for the ALP, many of the items for lending are on my account. The other day, I came online to find I was logged out of my account. I didn't think anything of it, as I had just finished cleaning out my PC (including dumping temp internet files and cookies). I collected my interest, and left for the day. Today, when I went to set up lends, I logged in to find all of my high-end ALP items missing. These are also, sadly, the items that get the most requests. I of course changed my password right away (as I do every few months anyway for security), but the damage so far, has been done.
I've sent off a ticket to TNT, as they have been returning items for some people in light of the many accounts that are getting compromised, so there is still hope. But for now, until I get things sorted out, certain lends have to be suspended until I can replace the items. Requests that are in the queue waiting to be filled will stay in the queue until I'm able to replace the items, so don't panic if you don't hear from us, but we won't be accepting new requests until I can sort out the item situation.
So far, the items affected include:
-Bony Grarrl Club (this one hurts, and if TNT is able to return anything, I'm hoping it's this)
-Plushie Meowclops
-Zafara Double Agent Plushie*
-Chokato (TCG)*
-Faerie Queen Doll*
*Another staff is looking into helping with these items, so they don't need to be suspended yet, but as of right now, no new requests will be accepted for Meowclops or BGC lends.
I'll keep you all informed as I get more information. Explained the situation thoroughly to TNT, so I'm hoping they'll be able to help us out soon.
» posted on Sunday, July 3rd 2016 @ 1:40 am EST by Emily
Comments: 38
Changes to Avatar Pet Lending!
Due to some recent unforeseen circumstances and changes in our staff, you may have noticed your Pet Requests have been going unanswered or are a couple months after you've sent in your requests. I would like to offer you our sincere apologies for any inconveniences this has caused. To help overcome these obstacles we've assigned a new leader for our Pet Lends. For now and the foreseeable future pet lends will be handled monthly by Deboratibi and occasionally myself.
Currently we are still unable to offer the Grey + Huggy chain as we are still waiting on the pesky little Huggy to age. Stay tuned for updates on this chain.
Earlier this evening Deboratibi has sent out neomails to those who sent in tickets, please respond as soon as you can so she can get the chains lined up and set for June. Chains will not be running this month due to the large amount of people that need to be notified and we are starting late this month. By running them next month it gives us more wiggle room in case there is a delay with the chain.
We thank you for your patience and understanding.
Sincerely,
Dawn
ALP Pet Team
» posted on Thursday, May 12th 2016 @ 4:49 am EST by Mouseykins
Comments: 5
Lawyerbot - Usuki Lends Discontinued
The ALP team has made the decision to discontinue lending for the Lawyerbot - Usuki avatar.

With the number of items required for this avatar, this required multiple trades and filled inventories, which caused delays and inconvenience for both the lender and borrower.

We apologize for the inconvenience this may cause any that had been planning to request these items.

Thank you,
The ALP Team
» posted on Monday, February 15th 2016 @ 8:48 pm EST by Spritzie
Comments: 4
Grey & Huggy Chain Suspended!
Due to an unforeseen occurrence. Our grey pet with the aged Huggy on it has been lost in transit. It appears the pound decided to keep our pet and not return it, so it's lying in limbo right now. We've recreated our Grey pet and are just waiting for the new Huggy to re-age. Once the Huggy is aged this chain will become available again. You may continue sending in requests for this chain and we'll keep them on file for when this chain is ready to go again. Apologies for the inconvenience!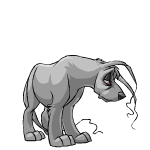 "I'm all alone. There's no on here beside me."
Additionally our chains will be starting a few days late this month. I'll be processing requests this afternoon to get things set up, so watch for Neomails.
Dawn
ALP Pet Team
» posted on Thursday, February 4th 2016 @ 10:08 pm EST by Mouseykins
Comments: 2